The Gateway WA – Project Overview
A.D. Engineering International is proud to be part of the largest road infrastructure project to date undertaken by Main Roads WA.
The Gateway WA project aims to improve the safety and efficiency of one of the State's most important transport hubs, where road, rail and air services connect to facilitate the movement of people and goods that are essential to the economy of both the State and the Nation.
The $1 billion project is a national infrastructure priority driven by the expected doubling of passenger air travel and the road freight task over the next decade, coupled with proposed consolidation of Perth's airport terminals. Perth's domestic airport has reached its capacity and the domestic operations are progressively being relocated to the international terminal area to achieve more efficient operations.
The Gateway WA project will create landmark road infrastructure around the Perth Airport and the freight and industrial hubs of Kewdale and Forrestfield. The project focuses on critical upgrades required for Tonkin Highway, between Great Eastern Highway and Roe Highway, and Leach Highway, between Orrong Road and Perth Airport. The project will significantly improve network reliability and reduce levels of congestion currently experienced on these sections of road.
The project incorporates road and bridge improvements, local road modifications, facilities and connections for pedestrians and cyclists, noise walls, landscaping and the use of Intelligent Transport System (ITS) Technology.
The Gateway WA ITS Technology – Design, Manufacture & Installation of Large Overhead Gantry Variable Message Signs (VMS)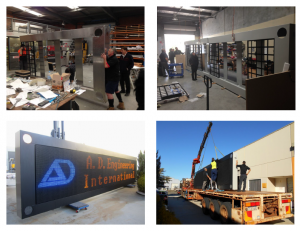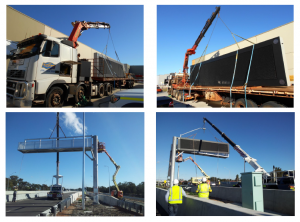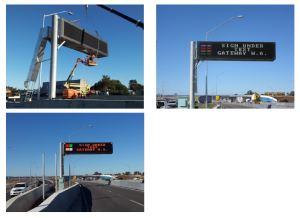 As part of the ITS Technology, A.D. Engineering International was selected by DownerMouchel to supply 16 large overhead gantry style Variable Message Signs (VMS) which will be mounted on the approaches to and along the mentioned highways. The variable message signs consist of 7 x Type C (approx 10 x 2.2 meters) and 9 x Type B (approx 9 x 2.2 meters).
A.D. Engineering International's gantry mounted VMS feature an ultra-bright full matrix LED display designed for high visibility and capable of displaying large format text and graphics certain to catch road users' attention. Road users will benefit from up-to-date information and traffic advice such as current traffic and weather conditions on the highway, safety messages and upcoming events (similar to the current system on the freeway).
There are two main differences between these new signs and previous installations:
Pictogram/Multi-colour display area in the left corner of the sign – The new featured area is capable of displaying symbolic road signs such as green/red arrows, road closed, road works, no U-turn, etc. The integration of colour-coded symbolic road signs helps road users to quickly assimilate the message displayed.
Two-colour main display with yellow and white text/graphics (previously only yellow)
A.D. Engineering International has extensive experience with projects of this nature and we have the capabilities and resources to meet customers' specific requirements. Our turnkey solutions encompass the whole scope of the project from custom-design and manufacture through to installation, commissioning and on-going support. We are familiar with the logistics of remote site preparation and the transportation of large electronic equipment in a careful and timely manner for installation and commissioning on site.
The 1st of 16 signs has been installed on the 16th July 2015 on the Tonkin Highway South near the Dunreath Drive Bridge. The second sign installation is scheduled for this week and the remaining spread across the following weeks.
A.D. Engineering International's continuing partnership with DownerMouchel and Main Roads WA is recognition of our high quality products, reliable performance and commitment to our clients and the community. We have already supplied a large number of variable speed limit signs, radar speed displays and transportable variable message signs for the Gateway WA project, and we aim to continue to be their supplier of choice.
A.D. Engineering International is Australia's leading manufacturer of high quality electronic equipment for the ITS industry. Over the last thirty five years we have specialised in the design and manufacture of electronic equipment to provide information, traffic control and road safety. We are committed to producing the most innovative, reliable and longest service life electronic equipment for the traffic ITS industry and we provide our clients with on-going support and back-up service for the life of the product. Our products are designed for and ideally suited for Australia's harsh environmental conditions.
Our product range includes mains or solar powered LED-based Information Systems/Variable Message Signs (transportable, gantry or pole mounted), Changeable Message Signs, Electronic Speed Limit Signs, School Zone Signs, Radar Speed Displays, Lane Usage Signals, Car Parking Signs and Monitoring Systems, and many other custom electronic items.
For more information please contact us on 1800 048 700 or +61 8 6401 6292, or visit our website at www.adengineering.com.au